Posted on
By Crystal Rogers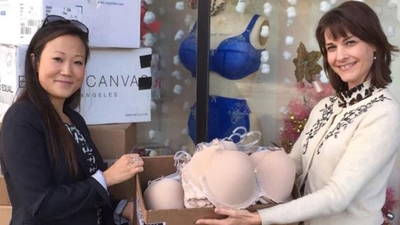 Lucy's Boudoir has a reputation for helping women find their true bra size and suiting them up in comfortable, flattering bras. After their fittings, however, we found that many of our customers were throwing away perfectly good bras they had bought prior to their visit, simply because they weren't a perfect fit. This discovery became an opportunity to give back to the community and put these new and gently used bras to good use.
Support Your Sisters is a bra donation drive that Lucy's Boudoir founded in 2012 to uplift women with a gift they will use everyday. Lucy's Boudoir collects bras throughout the year and then donates them to local women's shelters during the holiday season. Along with donating bras, the boutique also provides professional bra-fitters to properly fit ladies at the shelter. The gals at Lucy's Boudoir believe that a properly fitting bra positively impacts a woman's confidence, posture, appearance, and overall well-being.
It doesn't matter what size you are, if you have new or gently used bras at home that don't fit you, please donate them to Lucy's Boudoir during business hours. Donations are accepted all year round and the Support Your Sisters Drive starts in November. For more information call (562) 997-8786.